THE SET UP: I placed the still life inside a "box" with one side open. In this way I can control the direction of the light which is now coming from the left side and a little ambient light from the front. My easel is very close to the set up allowing me to paint almost "sight size".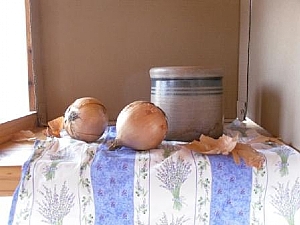 TONAL BREAKDOWN: I always begin with a loose, gestural ,"tonal breakdown" or grisaille underpainting. In this case ,I am using raw umber mixed with turpentine. I am primarily looking for light and dark patterns that describe form and enhance directional light.
I work primarily from life I normally do not use photographs to paint from. However, I noticed a few things about my painting when comparing it to the "photograph"of the still life that I took for the blog. The first thing I noticed was the ellipse on the top of the crock was off. When I took the picture I was closer to the set up and therefore saw none of the inside of the crock due to my eye level. When I returned to my easel I was looking down just a little more and could see some of the back rim. So I will adjust the ellipse somewhere in between the two views. Also, the width of the crock should be a little wider. The reflection on the right needed to be toned down. It was competing too much with the strong light on the left. Notice the three leaf pattern to the right of the crock. I decided to take the second leaf out so that more of the cloth could be seen. Now I miss that second leaf and have decided to put it back in the painting. Need to blend and lighten some of the tones on the first onion. Darken some of the shadows ever so slightly on the cloth and emphasize the folds a little more and I think that is it. Everything else looks pretty good to me. I do not want my painting to simulate a "photographic image" so I will let the origional direct painting marks stay without any blending. Here is the final painting with the subtle changes.
"Still Life with Onions, Crock and Provence Cloth"
Oil on linen (14x18)